Michael Newman, LMFT

(425) 270-1912 - mnmft44@gmail.com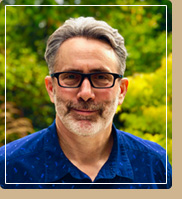 For the past 27 years, I have counseled families, couples, adults, and teenagers in a variety of settings and circumstances. I have a heart for people and enjoy being able to relate to individuals from a vast array of backgrounds, life experiences, and cultures. I come alive when I can step into another person's shoes and walk around for a while, learning about their stories and perspectives and how I can partner with them to heal and grow through their problems.
My experience involves many different mental health settings over the years. I have worked in psychiatric hospitals, child welfare agencies, substance abuse treatment centers, medical
group counseling centers, and private practice.
I received my Bachelor of Arts degree in Psychology from University of Maryland in 1989, my Master of Arts in Psychology from Pepperdine University in 1990, and a Master of Arts in Marriage and Family Therapy from California Graduate Institute in 2000. I also have a Treatment Certificate in the Treatment of Victims and Perpetrators of Violent Crime from California Graduate Institute and EMDR Certification through the EMDR Institute.
After completing my second Master's degree in 2000, I entered private practice in Los Angeles. I was fortunate to have two different training internships – one focusing on men's issues at the Thomas Aquinas Psychological Clinic, and the other training under Michael Peck, Ph.D., former director of the Los Angeles Suicide Prevention center. My primary focus in that internship was treating trauma-related mood disorders and their effects on relationships.
Presently, I work with teenagers and their families; particularly with those with substance abuse issues. I also work with adults individually to treat mood disorders, trauma, relationships problems and addiction issues. Finally, I use a short-term improvement model for couple's counseling. My approach shows couples that they can create change quickly, which creates hope to keep fighting for the relationship.
If you are wrestling with a problem not mentioned above, feel free to contact me. If I can not help you, I have many colleagues which I will assist you in getting an appointment. I look forward to hearing from you!